Background Info
The design of the Thames Waterman Cutter orginated from the organisers of the Great River Race.

The Thames Waterman Cutter is based on 19th century fixed-seat craft grp or wood and it is 34 ft long with a beam of 4ft 6in. It is coxed and up to six rowers can be carried along with the cox and a passenger or coach. On ceremonial occasions, the cutter is adapted to carry a canopy at the stern for extra passengers which is then rowed by four rowers.

As it is a light but sturdy craft, the cutter is at home on the Thames as well as the East London Docks. It is ideal for training and racing and can be handled by novices and experienced crews alike.

RECORDS

Modified cutters have crossed the Channel in 2 hrs 42 mins and also from London to Paris.

CREWS & TEAMS

There are great numbers of teams who row Thames Waterman Cutters in the London Docks. I row with the MVS in dark blue cutters. I also row with the Greenhill Disabled Rowing Team based at the Docklands Sailing Centre.

INTERESTED?

If anyone is interested in rowing Thames Waterman Cutters then please email me. (See Contact Me page).

GREAT RIVER RACE 2000

MVS Mermaids

On the 23rd of September, after months of training (if only in spirit) and crew changes at the last minute, the MVS Mermaids rowed in the Great River Race, a fantastic pageant of nearly 300 rowing craft from a miniature version of a Viking ship, a Tahiti war canoe, skiffs and dragonboats.. Although it was a sunny day,(thankfully the rain held off ), the windy conditions made the 22 mile row from Richmond to Greenwich, hard going.

The ladies team was one of 4 teams that rowed in MVS cutters, that included MVS Tower Hamlets and Southend. The Mermaids started just before midday, our cox steered us and our passenger, the Mayor of Lambeth through the chaotic traffic on the Thames, finishing at 15:51.
A memorable day for all participants, despite the post race agonies of blisters and tender posteriors, and perhaps a sore head or two from the post race party! This was the second time that the ladies team had taken part in Londons River Marathon, with a couple of veteran rowers and raw recruits rowing the Marathon Maid this time round. All for a beautiful certificate at the end!

A big thanks for all of the encouragement, advice from fellow rowers and the support from those onboard MVS Londinium 1, a safety boat on the day.

THANK YOU LADIES!




Rowing traditional boats
Come wind, rain or sunshine, (well when it is warm..) you'll encounter groups of people rowing cutters in Docklands and occasionally on the river Thames.

Light hearted and sociable hobby!

There is a growing community of people that row in Thames Waterman Cutters around London. Some boats are owned by clubs, others by livery companies and private companies. Individuals come from all walks of life.

There are a numbers of events that take place on the river Thames, usually in spring and summer, culminating in the Great River Race in September. Watch this space for details of forthcoming events.

A big thanks to all at the Docklands Sailing and Watersport Centre at Millwall for supporting the rowers based there!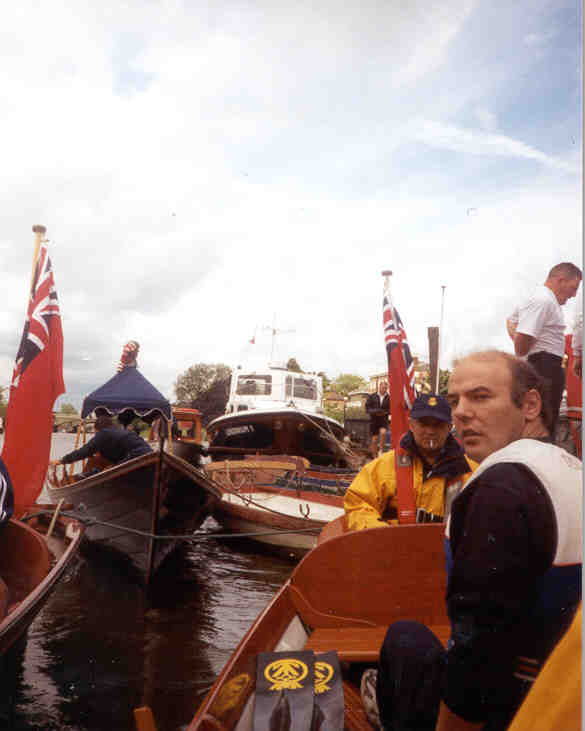 EVENTS ON THE RIVER


There are a number of events that take place on the river on a yearly basis,including:

MAY 2001

6th: Circumnavigation of the Isle of Dogs (HW 13:57)

19th: Putney Town Regatta (HW 12:10)

25/27th: Fowey Cutter/Cornish Gig Regatta

JUNE

3rd: Tudor Pull (Richmond to the Globe)

18th: Port Admiral's Challenge (HW 18:19) London Bridge

JULY

18th: Port of London Challenge (LW 18.48) London Bridge

July ? - Sea Cadets Mass Row - Charing Cross to Chelsea

24th: Doggett's & Badge Race

AUGUST

11th: Sunbury Town Regatta

24/26th Portsmouth International Festival of the Sea

SEPTEMBER

15th: The Great River Race - Richmond to Greenwich (12.00 p.m.)

Others events will be posted on this site.
SO WATCH THIS SPACE!


THE GREAT RIVER RACE

This is the river equivalent of the London Marathon, with just the same atmosphere. The race starts at Richmond and finishes at Greenwich, a total of 22 miles passing the centre of London. The Great River Race first started in 1987 and it is a race for traditional style craft coxed and with a minimum of oars or paddles.